In an interview with SBS World News last night, NSW Premier Gladys Berejiklian highlighted some comments made by Health Minister Brad Hazzard last month regarding "people of other origins."
On August 10, Mr Hazzard said a high percentage of the state's residents were complying with public health orders, including places like Fairfield in western Sydney, which has since seen a drop in cases of COVID-19.
However, he added:
There are other communities and people from other walks of life who don't seem to think there is a need to comply with the law and who don't really give much consideration to what they are doing in terms of impact. on the rest of the community, and I would tell them, you really need it because otherwise the law enforcement will come after you.
SBS World News anchor Janice Petersen said last night that Mr Hazzard "seems to be suggesting that people who look less like him, and more like me, are more likely to break the rules."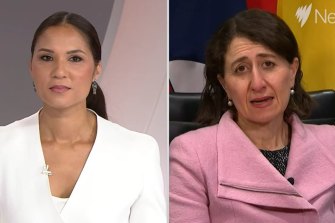 Ignoring this, Ms Berejiklian said she "would not read this in Minister Hazzard's comments at all", and referred to her own Armenian heritage:
She is a very compassionate and understanding person, and we all had to face a very difficult situation.

As a person who comes from a very proud migrant family, with a very extended family that we consider to be one family, I can imagine the stressors that have been placed on households and I can imagine the stress that that goes. is imposed on these families.

These are situations neither of us expected but we had to act on what the virus is doing.
Ms Berejiklian said essential workers in sectors such as food distribution and health "for the most part" lived in the west and south-west of Sydney, and the number of cases had unfortunately increased in those areas across the country. over time due to transmission in workplaces and households.
"I am incredibly proud of our communities who have stepped forward [to get vaccinated], and many communities have put aside long-standing beliefs and concerns about immunization. "
Ms Berejiklian said it was a "horrible feeling" as a decision maker to suppress fundamental freedoms and that every citizen had the right to feel "frustrated and resentful".